Jurisprudence-Legal Government Surveillance and Interference in the Relations between Workers and Employers in Egypt
Lotfi Tudros Rizk

Social Science Department, Cairo University
Keywords:
Government Surveillance and Interference, Workers, Employers, Security and Justice, Labor Law
Abstract
One of the most important laws of the countries is the labor law whose the target society is made of a large number of people, i.e. workers and employers. There are laws and regulations in Egypt on the relation between the workers and the employers. There are also principles for protecting this group (workers) as the fundamental principles of work, all of which are intended to improve the workers' lives and to establish rules that will better serve the interests of workers. The main aim of the labor rights is to improve the socioeconomic status of workers and to provide more security and justice and also to establish a social order for this class of society. The present study is a descriptive-analytic research, which investigates jurisprudential-legal government supervision and interference in the relation between the worker and the employer in Egypt. The results indicate that the necessity of government involvement in worker-employer relations has two main reasons. These reasons include changing the nature of labor relations after the industrial revolution and changing the function of government in contemporary time. The complexity and transformation of various relationships, including labor relations, which justifies the need for the intervention of a superior power to support the weak party of this relationship.
References
Abazari Ghomeshi, M., 2002. Labor Law. Behnam Publication, Second Edition, pp.16.

Araqi, Ezatullah, 2008. Labor Rights. Ministry of Culture and Islamic Guidance publications.

Aribawa, D. (2016). E-Commerce Strategic Business Environment Analysis in Egypt. International Journal of Economics and Financial, 130-134.
Bourdieu, P. (1986). The Form of Capital. In J. Richardson, Handbook of Theory and Research for The Sosiology of Education. Westport, CT: Greenwood Press.
Chaithralaxmi, T., & Shruthi, N. (2016). E-Commerce in India - Opportunities and Challenges. International Journal of Latest Trends in Engineering and Technology, 505-510.
Eriyanto. (2001). Analisis Wacana: Pengantar Analisi Teks Media. Yogyakarta: LKis.
Hadavand, M., Najabatkhah, M., 2011. Legal system for dealing with labor and employer disputes. Jungle Publication, pp.18.

Khurana, A., & Mehra, J. (2015). E-Commerce: Opportunity and Challenges. The International Journal of Business & Management, 182-186. Volume 3, Issue 1.
Mandhre, P. (2016). Impact of Cultural Capital On Online Trust. Maharashtra: Radboud University.
Nejad, N. S., & Nakhaie, H. (2011). The Role of Culture in the Development of Electronic Commerce. 3rd International Conference on Information and Financial Engineering (pp. 513-517). Singapore: IACSIT Press.
Scott, V., 2017. Resolving Disputes in the Workplace, Translator; Yousefi, S., Avand danesh.

Senarathna, I., Warren, M., Yeoh, W., & Salzman, S. (2014). The Influence of Organisation Culture on E-Commerce Adoption. Industrial Management & Data Systems, 1007-1021.
Sharma, R. (2014). Challenges and Opportunity of E-Commerce and Its Role in Management Education in India . International Journal of Current Trends in Engineering & Technology , 23-26. Volume 1, Issue 1.
Wang, H., & Wang, J. (2017). The Effect of Habitus and Capitals on Adoption Behavior of E-Commerce Information System An Inverstigation of Digital Immigrants. Scientific Research Publishing , 159-170.
Yuliani, A. (2017, November 11). Kemenkop UKM: 3,79 Juta UMKM Sudah Go Online. Retrieved September 22, 2018, from Kominfo: https://www.kominfo.go.id/content/detail/11526/kemenkop-ukm-379-juta-umkm-sudah-go-online/0/sorotan_media
Zohouri, Gh., 2008. The Relationship between Labor and Theories and Processes. Mehr Publication.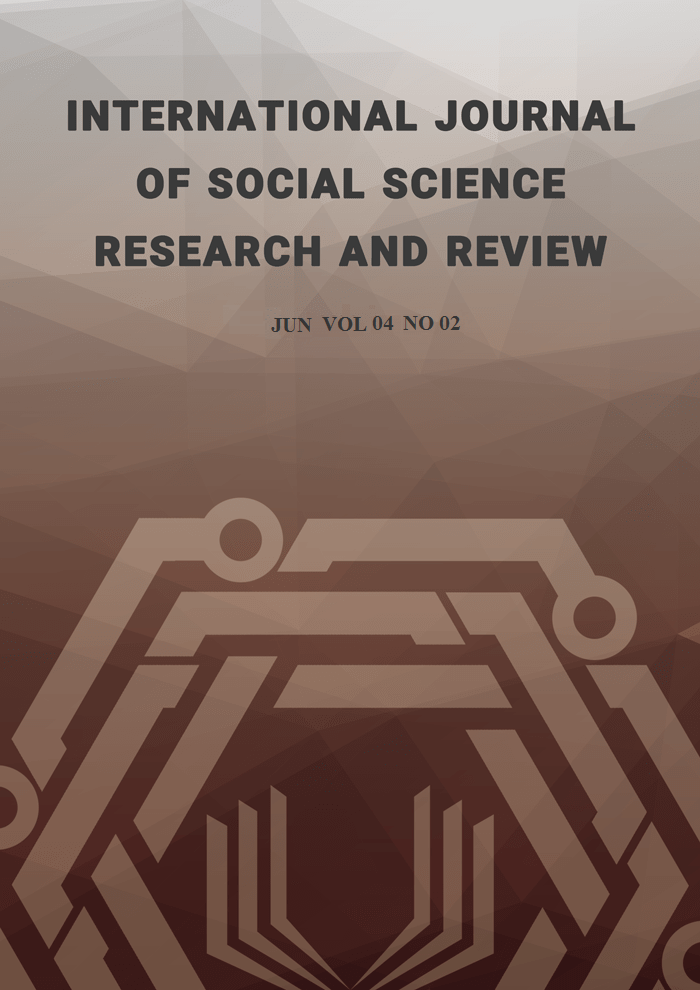 How to Cite
Rizk, L. (2021). Jurisprudence-Legal Government Surveillance and Interference in the Relations between Workers and Employers in Egypt. International Journal of Social Science Research and Review, 4(2), 49-55. https://doi.org/10.47814/ijssrr.v4i2.90
Copyright for this article is retained by the author(s), with first publication rights granted to the journal. This is an open-access article distributed under the terms and conditions of the Creative Commons Attribution license (https://creativecommons.org/licenses/by-nc-nd/4.0/).